UK VAPE COMPANY INNOVATES TO POSITIVELY IMPACT ENVIRONMENTAL EFFECT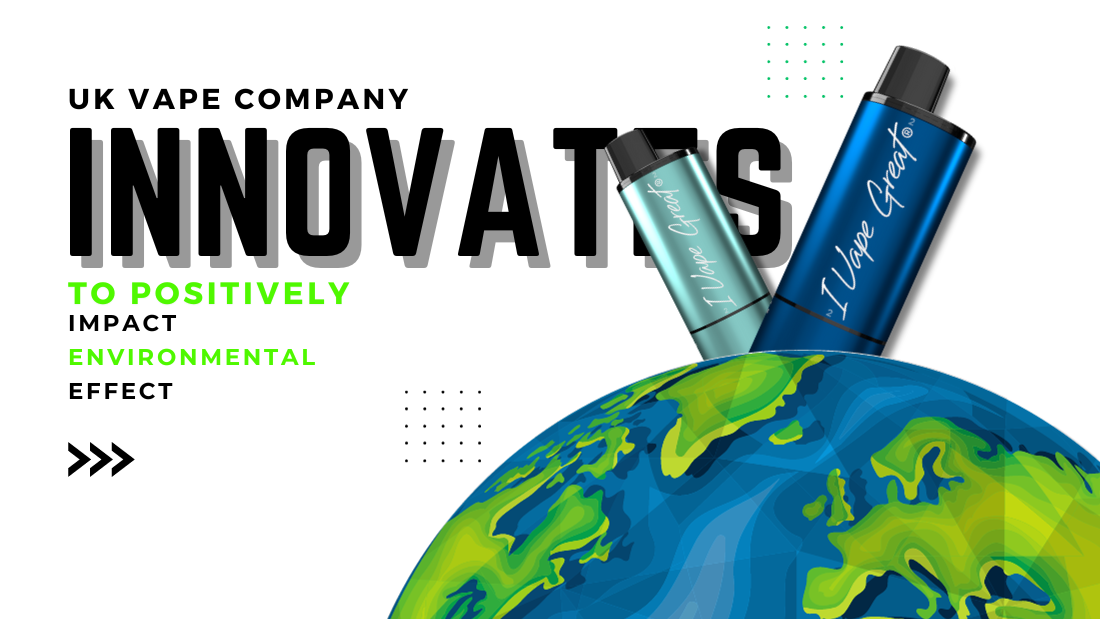 I Vape Great - a renowned global brand, and Preston-based manufacturer of e-liquids, is aiming to revolutionize the disposable vaping market.
Introducing IVG 2400 Big Puff Disposable Bars
The new IVG2400 is a first-to-market disposable vape bar in the UK and EU, whose benefits are aimed at pressing social and economic issues.
"We are delighted with this new product.  It targets key issues, discussed through regular media coverage highlighting underage vaping, illegal vapes and the environmental negativity of disposables." explains Rhett Morrissey, Marketing Manager at IVG.  Significant investment, ground-breaking R&D and close liaison with the MHRA and Trading Standards have meant that this unique patented product is fully TPD compliant.  This is important for retailers, as it gives them a weapon against illegal vapes, and its price-positioning and design target adults, making it less attractive to minors.  Its innovative characteristics also mean that less plastic and battery waste will be created compared to standard legal disposables.
Benefits of Big Puff Disposable Vapes
The IVG2400 is different from other single 600-puff disposables in that the device holds 4 x 600 puff pods, giving the availability of a total of 2400 puffs.  Only one 2ml pod can be vaped at any one time, and as soon as it runs out, the consumer can easily move to the next pod without having to carry spare disposables.  This is extremely convenient for the consumer and creates much less waste. Another benefit for those that enjoy variety, is the multi-flavoured pod options, where the consumer can switch between flavours as and when they want, something which is not available in any other disposable.
"This is cutting-edge design" continues Rhett Morrissey, "we've really thought about current issues, and worked hard to come up with responsible solutions. The consumer will be using only one battery in 4; the plastic used overall is much reduced; the technology and flavours within the device offer a supreme vaping experience making it easier for adult smokers to transition to vaping.  In particular, the retailer can relax, safe in the knowledge that what they are selling is of the highest quality and above all, legal."
IVG reports that consumer feedback, since the launch, has been outstanding.  Customers have remarked on the excellent vaping experience and been delighted by the quality of the flavours.  The convenience and cost-effectiveness are also a winner, as the retail price sits at around half the price of 4 single disposables.
This is an exciting shift in the disposable market, solidifying IVG's position as an industry leader and innovator.  The IVG2400 will be available across the UK, in-store and online.  
For more information on the IVG 2400 and other IVG products, please visit www.ivapegreat.com or contact us at 01772 217000
About IVG
IVG is a highly respected brand and manufacturer in the disposable vaping industry, committed to delivering an exceptional vaping experience for adult smokers through innovation. With a strong emphasis on quality, sustainability, and regulatory compliance, IVG continues to shape the future of vaping in the UK and global markets.