Differences Between Disposable Vapes and Rechargeable Vapes?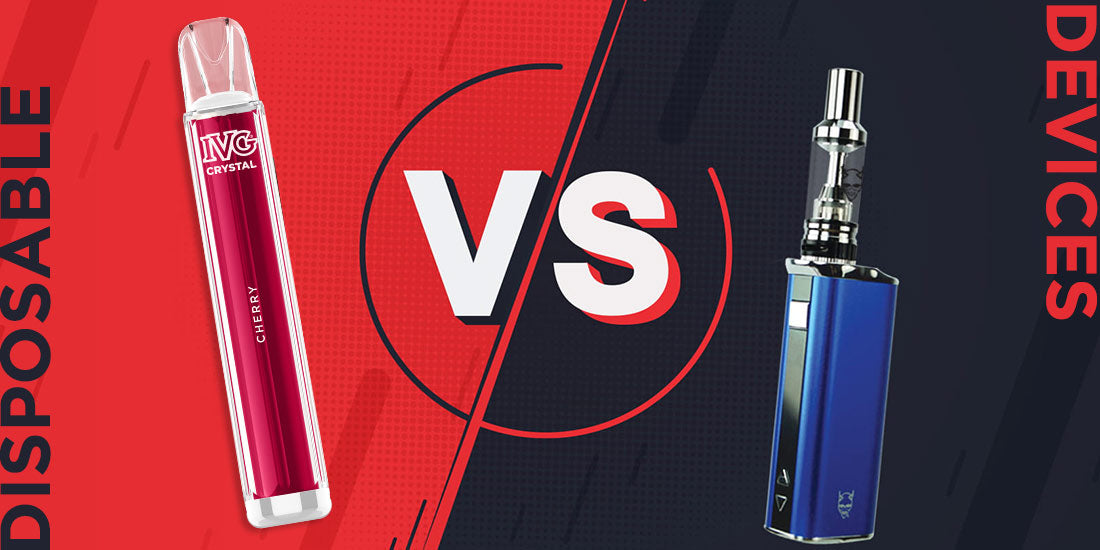 If you are thinking of buying a vape for the first time or just trying out a new device, you may be confused between a disposable or a rechargeable vape, and you must be thinking about which one is best for you. Both types have distinct benefits, and there's no wrong choice. It all depends on you and your needs. So, let's take a deeper look at each and sort out your confusion in no time!
What
Are

Disposable Vapes?

Disposable e-cigs are typically sold individually, although you can find more economical 12-packs such as these. Disposable vape pens are sealed vapes prefilled with vape juice (containing nicotine mainly) and an in-built battery. They are usually buttonless and are activated by inhaling on the device via its auto-draw trigger. Your puffs automatically heat the coil to produce vapour.
Costs of Disposable Vapes:
The cost of an individual disposable vape device can also be lower than that of a rechargeable. However, repeated buys mean the cost of using a disposable vape is higher in the long term. You may also want to give some thought to the environment when deciding on stocking disposable vapes. They are ultimately designed to be thrown away and are not straightforward to recycle While vaping disposables wouldn't save you any money in the long run, it can be a great low-cost way to experiment or have a convenient option on hand when you're on the go.
How Long Will Disposable Vapes Last?
The difference between a disposable vape and a pod kit device is simple: puff bars are intended for single use. Therefore, they are not reusable, whereas pod kits can be used many times over. They are going to last while their prefilled juice or battery lasts. When it is drained, you discard it and continue to the next. Rechargeable batteries are now available in certain devices. However, after the prefilled juice runs out, you can no longer use them. As a result, they are also classified as disposable vapes. The simplicity of use and low cost of disposable vapes have made them extremely popular among new vapers.
They Are Great for Casual Vapers:
They're portable and mostly cheaper than rechargeable, making them perfect for outings and travel. They're also an excellent way to try out different flavours before making a big financial commitment to vaping. However, it's essential to keep in mind that the quality of the battery power in disposable devices is naturally going to be slightly inferior to rechargeable models, which can affect the taste and feel somewhat – so keep that in mind as you vape.
Disposable Vapes; Pros and Cons:
Pros
No Maintenance: There are no replaceable parts on disposables.
Easy-to-Use: No buttons or fancy functions; inhale, and you are vaping.
Mess-free: They are prefilled with vape juice, eliminating the hassle and mess of refilling.
Good flavor: They deliver great taste as concealed units containing the manufacturer's sweetened juice.
Cons
Vapour Production: There is no control of the PG/VG ratio of the vape juice and no airflow control. So you are stuck with the vapour production of the disposable.
No Juice Window: It's hard to gauge when you are running low on juice as there is no juice window. Most don't have a battery gauge, either.
What are Rechargeable Vapes?
Any other non-disposable vape device would be classified as a rechargeable or reusable vape. On the other hand, a pod system is arguably the closest thing to a disposable in terms of form and function.
Components of Rechargeable Vapes:
Pod vapes generally come with 2ml interchangeable pods that can be filled with juice. They will also include an inbuilt rechargeable battery. Many also have more complex features like adjustable power, airflow, and coil resistance choices to customize your vaping experience.
Are Pod Vapes Easy to Use?
Pod vapes are simple to use, but you will need more vaping expertise if you want to use them, and then you must buy vape juice with the proper nicotine strength separately. Vape mods give you complete control over the nicotine levels. You can use either freebase nicotine or nicotine salt e-liquid.
You will also need to understand the differences between the resistances of coils. Most pod vapes are tailored to MTL vaping like disposable vapes, but some will come with lower resistance coils (which deliver a more powerful vape) for DTL vaping. You can get some pod vapes that utilize prefilled pods (disposable), but you can still use the device many times.
Types of Rechargeable Vapes:
Pod Vapes
Vape Pens
Vape Mods and Box Mods
Rechargeable Vapes; Pros and Cons:
Pros
Tailored Experience: Refillable pods have different coil resistances to suit your preference. Some also come with adjustable power and airflow.
User-friendly: They are easy to use, and most come with an auto-draw function or single button for operation. Pods are easy to refill and replace.
Unlimited Flavors: You choose what flavour profile to fill the pod with, which gives you scope from any juice manufacturer.
Replaceable Pods: You can interchange flavours by just replacing pods.
Power: The batteries are rechargeable (usually by USB-C), and all come with a battery status gauge – usually LED lights, but some also have screens.
Cons
Maintenance: Some maintenance is required to keep the device clean. Also, charging and replacing the pods.
Inconvenience: Recharging the device and refilling pods can get a little repetitive compared to a disposable one.
More Cumbersome: You may have to carry extra juice with you and potentially charge cables and spare pods.
Are Disposable Vapes for You?
Disposables are easily the best vape devices for beginners or those wanting to try vaping. They are as close to smoking a cigarette as possible in vaping, as there is no learning curve. But then, you unpack the disposable and start vaping.
They mainly provide an MTL draw that smokers would be accustomed to. Disposable bars are good options for experienced vapers who don't want to carry around a more expensive or extensive device.
Are Rechargeable Vapes for You?
Rechargeable vapes, like pod mods, should be the next step on the ladder for anyone who vapes regularly as they provide a more personalized vape experience and deliver better overall performance.
Some people prefer rechargeable devices because, with disposable puff bars, you don't have the option to change your cartridge and try out different e-liquid (although disposable e-cigs come in various flavours). Pod vapes are just as compact and pocket-friendly. They are also more cost-effective in the long term as you only need to replace the pod or coils, which usually costs lower than 3 Pounds.
You do have the extra expense of adding your vape juice. However, this allows you far more options with flavours. You can also mix your own to keep the costs down. Pod vapes are the ideal companions for experienced vapers when out and about. Pod vapes are a step up from disposable vapes in so many ways.