Snap, Share, and Win with IVG: Join The Exciting Journey of The Big Puff Adventure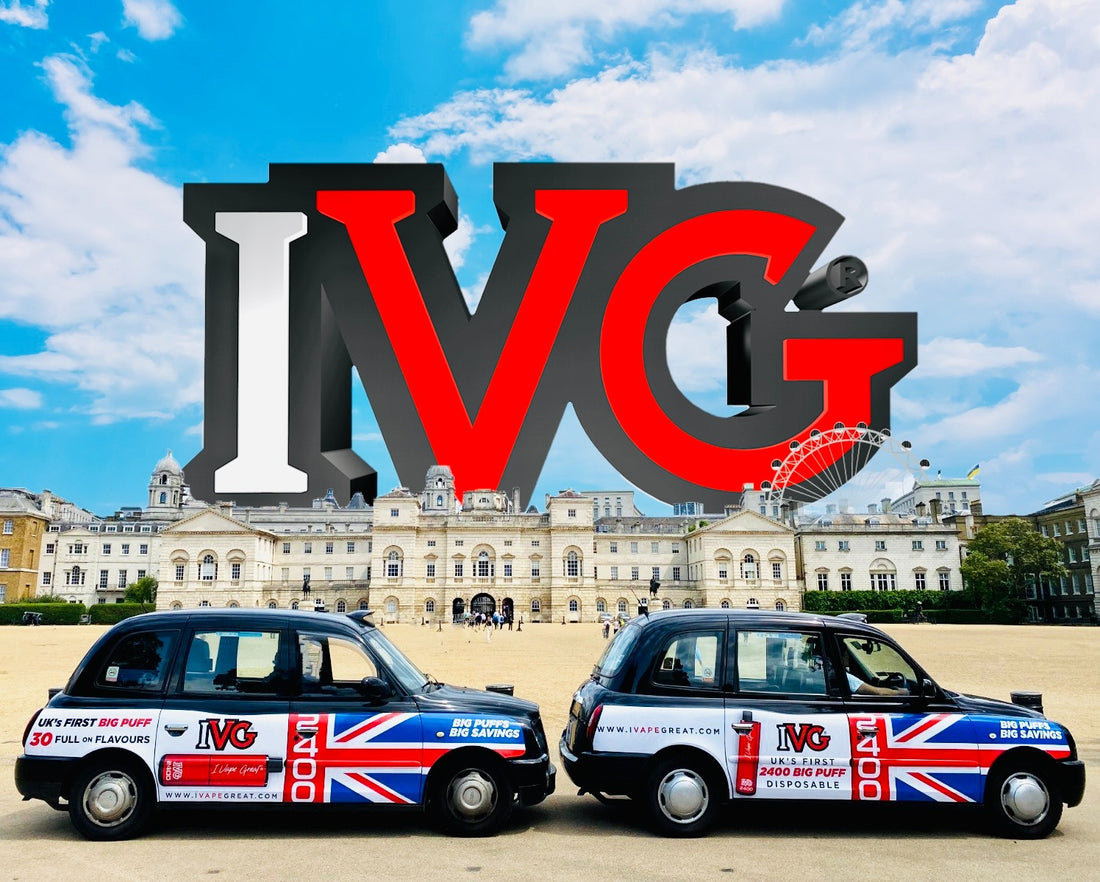 London, get ready to hop aboard an exciting journey with IVG! If you've been strolling through the bustling streets of Central London, you may have spotted some mysterious black cabs cruising around, leaving a trail of curiosity in their wake. Wondering what's brewing inside those iconic vehicles? Hold your breath, for we have a thrilling surprise for you! The much-anticipated launch of our brand-new IVG 2400 Big Puff disposable is taking the city by storm. And guess what? You, dear vaper, can be a part of this thrilling ride and even bag a chance to get a delightful reward! Are you up for the adventure? Let's buckle up and explore how you can grab the opportunity to score 1000 points (equivalent to £10) to splurge on our website - all while cruising in style with IVG.
Stepping into the Fast Lane
As you venture into the world of IVG's Big Puff disposable, the journey begins with some simple steps that lead you to a chance of winning fantastic rewards:
Follow Us on Instagram: Like a secret map to hidden treasures, follow our captivating Instagram page. Stay updated on the latest IVG happenings and unlock the portal to exciting giveaways!
Say Cheese with IVG: Spot one of our branded taxis navigating the vibrant streets of London. Snap a selfie with the IVG 2400 Big Puff display and capture the essence of this thrilling moment.
Hailing Your Entry: Hold your prized photo and send it to us before the magical closing date - 24/08/2023. Share your masterpiece with the title "HELLO IVG TAXI" to stand a chance to receive your points.
Create or Connect - It's a Win-Win: Need to board on the IVG website journey? Fear not! Create an account on our website, and we'll gift you the golden ticket of 1000 points. Already a proud member of our IVG family? Just follow steps 1, 2 & 3 to secure your entry.


Terms and Conditions - Your Ticket to the Adventure
Before you embark on this enthralling expedition, here are some crucial pointers to ensure you sail smoothly into the realm of rewards:
The closing date for this captivating quest is 24th August 2023. Make sure your entry reaches us before the clock strikes midnight!
Excited to share your masterpiece? Feel free to send your photo and details to our Instagram or Facebook account. Alternatively, you can board the email route by sending your entry to customercare@ivapegreat.com.
The Road to Rewards
As you walk through the streets of London, watching for our IVG-branded taxis, you'll discover that this journey is not just about the destination but the memories you create along the way. Picture yourself capturing that picture-perfect moment with the IVG taxi, a charming keepsake of this exciting adventure.

And the best part? The potential to unlock 1000 points worth £10, ready to be redeemed for your favourite IVG treats! The choices are endless, from the mouthwatering flavours of our e-liquids to the latest must-have vape gear.

So, Londoners, the invitation is clear - buckle up, snap, share, and win! IVG 2400 Big Puff disposable brings you an unforgettable chance to join the ride and score big rewards. Don't let this opportunity slip through your fingers - follow our Instagram page, seize that selfie with our branded taxis, and send it our way with the title "HELLO IVG TAXI." You never know. Your moment of capturing joy might lead you to the grand prize of 1000 points waiting to be spent on our website. The clock is ticking, and the adventure awaits! Hop on board and immerse yourself in the thrilling world of IVG. Good luck on your ride of a lifetime!