The Ultimate Guide to Choose the Best Shortfill Vape Liquids in 2023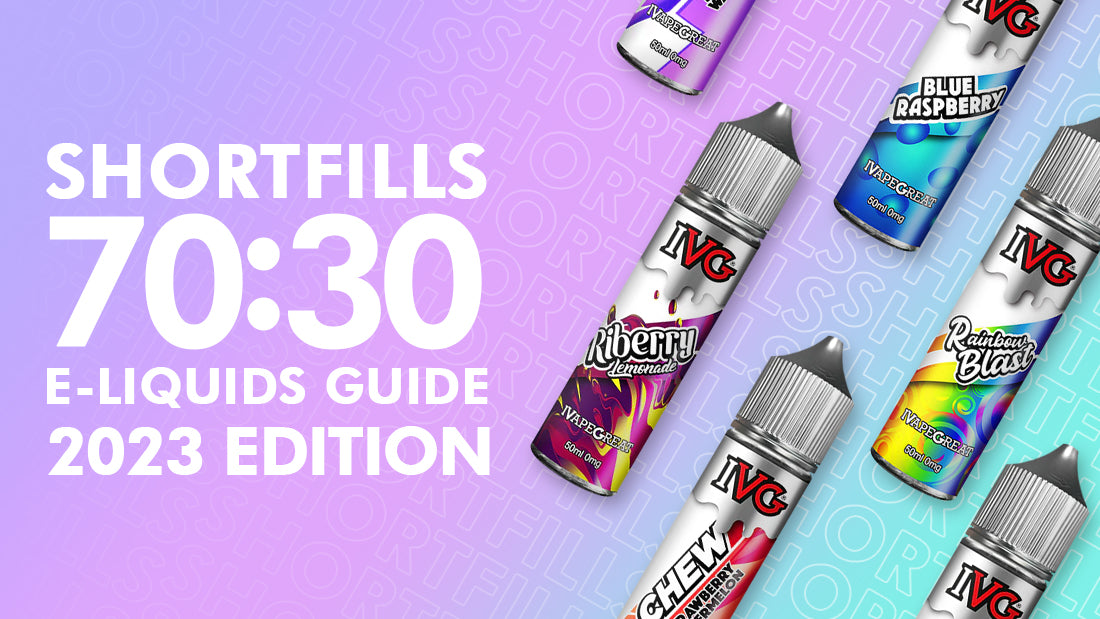 Shortfills appeared like the apple of the vaping community's eye, capturing everyone's attention. However, their success was not just a stroke of luck. Let me put it this way - shortfill vape liquids are the "IT" thing of the vaping world! They've been making waves for a few years now and it seems like everyone wants to be in on the action.
How Shortfills Were Introduced?
Shortfills were introduced as a solution to a problem that vapers faced when the TPD (Tobacco Products Directive) came into effect. The limit on the size of nicotine-containing e-liquid bottles to 10ml made it difficult for vapers who needed larger amounts of e-liquid to constantly refill their devices. Shortfills, with their larger bottles of e-liquid that are not entirely filled, provided a solution to this problem by allowing vapers to add their nicotine shots or boosters to increase the nicotine strength.
And let's not forget about the customization factor - shortfills give vapers the freedom to choose their own adventure when it comes to flavour, VG/PG ratios, and nicotine strengths. It's like a DIY vape liquid experience that lets you create the perfect blend to suit your taste buds.
As follows, Shortfill vape liquids or e-liquids are an excellent way to enjoy vaping without the need for constant refilling. In this ultimate guide, we will explore the best ways to choose the best shortfill e-liquids in 2023.
How We Compiled the Ultimate List of Shortfill E-Liquids
Get ready, because we've got the ultimate shortfill vape liquid lineup that's been carefully curated just for you! How did we create this masterpiece, you ask? Well, we took a look at the sales statistics, gathered feedback from the vaping community, and of course, conducted the all-important taste test.
But that's not all - we've gone above and beyond to give you the best possible shortfill vape liquid experience. We've included ratings for each E-Liquid, covering everything from flavour intensity to cloud production. And let's not forget about the value factor - we know you don't want to break the bank for a good vape liquid, so we've got you covered.
But first, let's discuss how you would know which vape liquid to buy:
How Would You Know Which Vape Liquid to Buy?
Finding the perfect e-liquid can be a challenging task due to the wide range of factors that contribute to its overall taste and experience. There are many elements to consider when choosing an e-liquid, including the flavour notes, level of PG or VG, nicotine content, coils, and device used. As a result, the end result can vary greatly, making it necessary for customers to experiment with different combinations to find the perfect match for their preferences.
To make the process a little easier, e-liquids can be categorised into specific vaping groups based on their characteristics. For instance, e-liquids with a higher VG level are typically preferred by sub-ohm cloud chasers, as they are known for producing large clouds of vapour. Meanwhile, those looking for an all-day mouth-to-lung vaping experience similar to smoking a cigarette often choose e-liquids with a higher PG level. However, the e-liquid market has been changing in recent years, with the introduction of products such as nicotine salts and shortfills, which have become just as popular as traditional e-liquids.
The next question is why PG and VG ratios are important:
Why PG and VG Ratios Are Important?
When buying e-liquid, it is essential to take into account the ratio of Vegetable Glycerin (VG) and Propylene Glycol (PG). These two substances serve as a foundation for e-liquids and are generally safe to use, as they are commonly used in food and pharmaceutical production. The VG and PG ratio plays a significant role in determining the overall vaping experience, such as the flavour, nicotine dilution, and inhale and exhale sensations.
A high VG e-liquid requires a higher temperature to vapourize, evaporates at a faster pace, and is more intense for Sub-Ohm devices, which may result in damage to the coils. It is often preferred by those who enjoy producing large clouds of vapour. Conversely, a high PG e-liquid is thinner in density and consistency, making it last longer in the tank or pod. It creates a cooler vape and has less coil build-up while enhancing the natural flavours of the e-liquid.
Top 5 Shortfill E-Liquids of 2023
Summer Blaze Shortfill E-Liquid
Rating: 4.5/5
This shortfill e-liquid is a top favourite among vapers, known for its delightful mix of sweet summer fruits. With a 70% VG blend, it delivers a satisfying combination of peachy flavour on the inhale, followed by a crisp Sicilian lemonade and a cool icy finish on the exhale, making it a perfectly balanced and refreshing vape that can be enjoyed throughout the day.
What sets this e-liquid apart from others is that its flavour is not overwhelming, and it's not overly sweet, making it an ideal choice for daily use without becoming too sickly. That's why it has secured the number one spot for the best shortfill e-liquid.
Peppermint Menthol Shortfill E-Liquid
Rating: 4.3/5
This shortfill e-liquid is a must-try, with its double dose of peppermint and menthol, making it a perfect all-day vape. The flavour is pure and indulgent, making it an exceptional choice for vapers who love menthol flavours.
What sets this e-liquid apart from others is that it's 100% VG, which makes it an ideal choice for vapers who have PG intolerances. This means that anyone can enjoy this e-liquid without worrying about any adverse reactions from PG.
Blue Raspberry Lemonade Shortfill E-Liquid
Rating: 4/5
The 100ml shortfill e-liquids range offers a unique selection of fruity and refreshing flavour combinations. Among them, the Blue Raspberry Lemonade stands out as our favourite with its blend of tangy blue raspberries and lively lemonade that creates a delightful combination of sweet and sour flavours. The e-liquid also features a sharp and zesty kick, making it a real treat for anyone who loves exciting flavours.
Real Tobacco Shortfill E-Liquid
Rating: 4.3/5
The Real Tobacco Shortfill E-Liquid delivers a deep and rich tobacco flavour that is perfect for vapers who prefer more traditional e-liquids. It features earthy and refined oaky notes that create a satisfying vaping experience. This e-liquid is also an excellent choice for those who are trying to quit smoking combustible cigarettes.
With a 100% VG ratio, it is also suitable for vapers who have allergies to PG vape liquid, allowing them to enjoy elegant flavours naturally.
Strawberry Kiwi Shortfill E-Liquid
Rating: 4/5
Seriously, a UK-based brand, offers a range of e-liquids that boast powerful flavour combinations. One of their standout flavours is Strawberry Kiwi, which perfectly captures the natural sweetness of fresh strawberries and the tangy sharpness of kiwi. The blend is well-balanced, making it a flavour-packed and enjoyable e-liquid that you can easily vape all day without getting bored.
Conclusive Comment
Creating this article and ranking the best shortfills has been an enjoyable experience, as trying out different and unique flavours is always exciting. I hope that the information provided in this article has helped you in finding the best shortfill e-liquid for yourself or has answered any questions you may have had regarding premium vape liquid.
From our research, the top two best shortfills that stand out in all aspects are Summer Blaze and Peppermint Menthol.