Bar Favourites Reviewed by Mist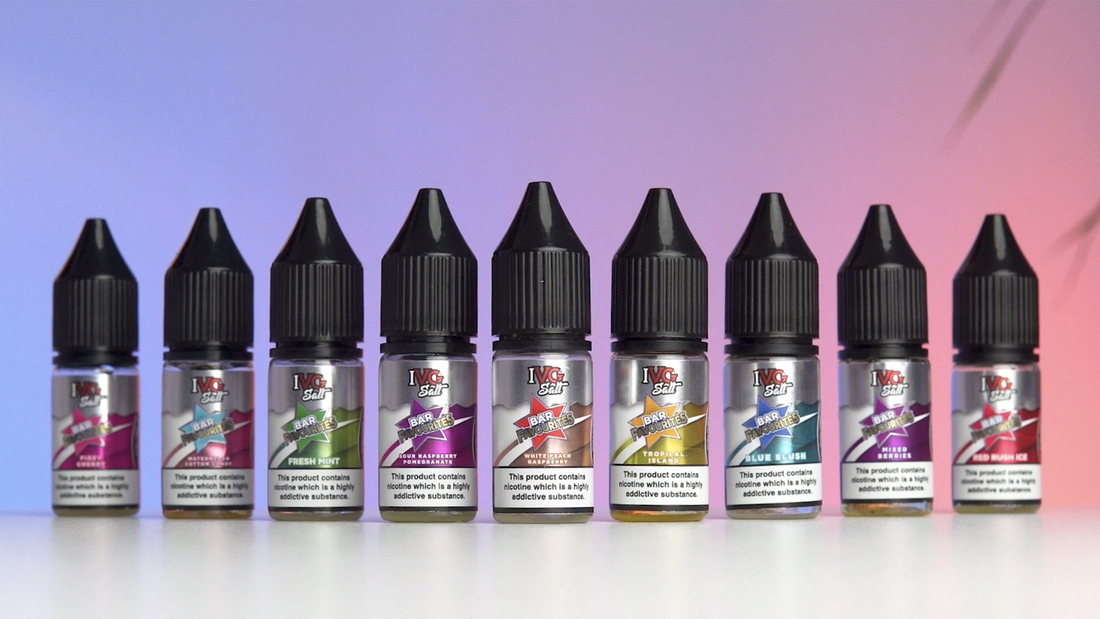 It's no secret vape disposables pack a lot of flavour, but it's not the most economical and not to mention, the most environmentally-friendly choice for long-term use.
Enter I Vape Great or IVG for short, a UK-based, award-winning e-liquid company that challenges even the tastiest disposables by introducing their IVG Bar Favourites line-up, which IVG hopes will sway fans of disposables towards a more cost-effective and environmentally responsible means of nicotine intake.
The range, which consists of 21 flavours, is touted as being as tasty and flavourful as disposables but more cost-effective and, of course, without the disposable vape waste.
At MIST, we were lucky enough to try out ten of these 21 flavours, and finally, determine whether or not these nic salts should be your next favourites.
The MIST Methodology
As mentioned earlier, we've received 10 flavours from the whopping 21-flavour line-up of Bar Favourites. These are:

Mixed Berries

White Peach Raspberry

Fizzy Cherry

Sour Raspberry Pomegranate

Watermelon Cherry

Tropical Island

Fresh Mint

Blue Slush

Red Rush Ice

Watermelon Cotton Candy
All of these flavours are nic salt with a 50/50 PG/VG blend. Each of the IVG Bar Favourites e-juices are available in both 10mg and 20mg strengths.
We've decided to pair all ten flavours with the OXVA Xlim SQ - an MTL vape kit suited for such vape juice specification. To keep each flavour as pure as possible, we've used fresh XLIM V2 Pods for each flavour (no double pouring, of course!)
We've scored each flavour from 1-10, comparing it with IVG's own flavour notes versus what we've actually tasted.
For full disclosure and 100% transparency, we haven't tried any of the flavours from the range. We've performed the vape juice taste test right after we've opened the bottle cap.
Now that's out of the way. Let's get down to the actual review. 
 Video Review: https://www.youtube.com/watch?v=11dG1IXXWeE
Mixed Berries: A Gentle, Sweet All-Day Vape
IVG's flavour notes: "Ripe mixed berries leaving you wanting more."
First up in our Bar Favourites review is Mixed Berries. We dove into this e-liquid sampling anticipating a fairly standard-issue tart 'forest fruits' blend, but were surprised to find it actually seemed far more reminiscent of a classic childhood beverage range traditionally served in cartons.
Our team were by no means disappointed by this revelation, as berry-blends have been done to death but beverage vapes are always a pleasant surprise.
The e-liquid offers a gentle, sweet mixed fruit taste without the sour kick we anticipated edge, great for berry-fans seeking a novel take on a classic combo. Those who like a zesty note to berries might be a little disappointed, but we have a feeling there'll be plenty of opportunities for sour puffs later on.
Score: 7/10
White Peach Raspberry: A Refreshing, All-Day Fruity Vape
IVG's flavour notes: "Filled with aromatic white peach combined with sweet raspberries, presenting you with a mouth full of flavour."
Next up, we have White Peach Raspberry. White Peach isn't a very common e-liquid flavouring, so we were intrigued right off the bat. White peach is considered to be slightly less acidic than yellow peach, and we expected a gentle peach profile with a sharp berry edge.
Surprisingly the peach flavour is dominant, with the raspberry adding an interesting and almost floral note. There's also an unexpected faint touch of menthol, which enhanced the restrained fruit tastes with an added benefit of refreshment. Remarkable use of raspberry as a kind of flavouring backup dancer to a bright and sunny peach symphony!
Score: 9/10
Fizzy Cherry: A Nostalgic Candy Vape
IVG's flavour notes: "Luscious cherries with an added fizzy kick."
The slightly vague flavour description of Fizzy Cherry had us anticipating a kind of 'cherryade' or dark soda & cherry beverage blend, always a nice puff.
But imagine our surprise and delight when we *instantly* got a mouthful of classic cherry gummy candy, with a tangy edge of sugar coating. Fruit fans beware; this is very much a candy vape, and the sugariness might be a bit of a turn-off for some.
But we have to give it to IVG; we've yet to experience such an accurate conveyance of cherry gummies before, we just wish the flavour description had prepared us better.
Score: 8/10
Sour Raspberry Pomegranate: A Delicious New Pomegranate Vape Flavour
IVG's flavour notes: "Fresh sweet raspberries and tangy pomegranate, with a little sour kick."
We were excited about this one! Pomegranate is a unique fruit which requires a lot of mess and seed-chewing to enjoy, so the prospect of pure pom puffs had us giddily filling a XLIM V2 pod.
It most certainly did not disappoint! A powerful and rich pomegranate punch strikes the tongue instantly, equally sugary with a low thrum of tangy sourness aided by the inclusion of the raspberry, carrying the same surprisingly floral quality as in the earlier White Peach juice.
Despite the very strong sweetness we were surprised by a lack of lingering aftertaste, the rich red flavour evaporating like a summery dream right up until the next thirsty puff. A standout flavour!
Score: 10/10
Watermelon Cherry: A World Collide Moment
IVG's flavour notes: "Cherries and watermelon so luscious the flavour will burst in your mouth."
This was an intimidating one, and we trembled a little while fitting the pod into the XLIM SQ. Watermelon and cherry are both potent flavours that we felt might struggle for dominance, so we prepared ourselves for a war between tropical fruit and orchard berries.
It seems however that IVG chose to make the watermelon the dominant flavour, with the sour cherry notes almost neutralised by the paradise fruit profile. A wise choice in our eyes, as watermelon works best front and centre, with the cheeky cherry juice taking a backseat to give a subtle tang to the rounded sweetness of the melon. No candy notes to speak of, just pure fruity fun.
Score: 9/10
Tropical Island: A Pineapple Lover's Paradise
IVG's flavour notes: "Packed full of pineapple, melon and kiwi leaving your mouth watering."
The promise of a pineapple, watermelon and kiwi fruit seemed almost too good to be true, and sadly for once our doubts were confirmed with Tropical Island.
While the sunny pineapple was immediately present, flooding the mouth with an unmistakable syrupy sweetness, we found it hard to detect the watermelon or kiwi flavours. There was undoubtedly a vibrancy behind the melon, but we feel that the juice would have benefitted from a little more tart kiwi. Still, pineapple fans will adore this juice, and the faint addition of menthol adds a refreshing edge to what could otherwise be an overwhelmingly sweet profile.
Score: 6/10
Fresh Mint: A Surprisingly Sweet and Herby Treat
IVG's flavour notes: "Packed full of flavour, enjoy the classic taste of mint with an icy touch."
Now for something completely different! The Bar Favourites range very much falls within a sweet fruits and candy flavour genre, so we anticipated that Fresh Mint would be an outlier, a cool menthol kick to refresh the palate.
Once again IVG went beyond our expectations! Fresh Mint has a highly herby flavour, carrying the taste of freshly rubbed mint leaves with an added sweetness that brought chewable mint confectionary to mind. There is a menthol addition, but it's quite subtle and leaves you feeling refreshed but not cooled down.
In retrospect, it feels more in keeping with the wider range for Fresh Mint to have a mint candy profile. Pure menthol fans may wish to look elsewhere for their arctic refreshment however.
Score: 7/10
Blue Slush: Fruity, Sour, Tart, and Refreshingly Cool
IVG's flavour notes: "Excite your taste-buds with tangy blue raspberries mixed with refreshing lemonade."
We were keen to give Blue Slush a try, as slushie drink vapes are well-trodden ground within the disposable world and we figured that if they can pull this one off they'll easily be able to convert one-use vape pen devotees to refillable methods.
We were very pleasantly surprised and had perhaps overlooked IVG's flavour notes. While we anticipated a subtle blueberry & ice arrangement, the tongue is instead immediately blasted by a sharp shock of sour raspberry flavour, with lemonade citrus adding a further touch of zest before the cool ice sent blue waves of sweet refreshment down the throat.
Blue Slush is a standout winner of the range so far, a gorgeous blend that absolutely captures the disposable vape flavour experience!
Score: 10/10
Red Rush Ice: Surprisingly Sweet and Candy-like
IVG's flavour notes: "Enjoy the fresh taste of your favourite energy drink, combined with a menthol exhale."
We here at MIST are perhaps too familiar with the taste of energy drinks, and so when filling the pod we braced ourselves for a fridge-chilled taste of vibrant taurine and mixed-fruit sweetness.
That is most certainly not what we got from our puff, but we aren't complaining. Our eyebrows furrowed quizzically upon the immediate taste of red fruity chewy candy, with a backing note of what felt like liquorice, giving Red Rush Ice a taste that was extremely reminiscent of strawberry laces. A surprise, but a pleasant one, with the lightest touch of menthol adding a cool note without impacting on the candy sweetness.
Energy drink vape fans are likely to be a little disappointed, but fruit candy aficionados are in for a lovely surprise!
Score: 8/10
Watermelon Cotton Candy: A Unique Blend of Tropical and Fairground Fun
IVG's flavour notes: "The taste of fluffy cotton candy, with hints of cream and watermelon for a novel twist on a classic taste."
Such a strange pairing of flavours had us a little apprehensive about Watermelon Cotton Candy. It was going to be sweet, that much was certain, and we took an open-minded deep inhale.
Turns out that fairground fun and paradise fruits are absolutely made for eachother! The strong watermelon takes the lead, with hot spun sugar backing it up beautifully and enhancing the already sugary profile of the exotic melon. There was also a noticeable dairy addition which was far from unwelcome, giving it an almost 'milkshake' taste that could have been a fruity ice-cream with just a little menthol.
Watermelon Cotton Candy was a delightful dark horse to finish this review with, a unique blend of tasty flavours you've likely never experienced before.
Score: 9/10
Verdict: Bar Favourites Are A MIST Favourite! Perfect for Those Looking to Quit Smoking
After trying these 10 Bar Favourites flavours, we can confidently say that these nic salts are perfect if you're ready to move on from disposables.
We're scoring them a solid 9 out of 10 because of the surprising (in a good way) take on classic vape juice flavours and IVG's ingenious way to make contrasting flavours harmoniously blend together.
Of course, there are some flavours that are incredibly memorable, stand-out champions from the winner's gallery. Our favourites are:
White Peach Raspberry adds a whole new dimension to raspberry flavourings, with a sumptuous peach profile that manages to deliver summery sweetness without any acidity.

Sour Raspberry Pomegranate boldly puts a rare vape juice flavour at the forefront and immediately wins you over with a rich, red fruity burst of sweet, tart tastes.

Blue Slush is our absolute fave; zesty, sweet and sour with just the *perfect* level of ice, it transported us to a youthful poolside afternoon and is guaranteed to delight disposable fans.
Overall, IVG's Bar Favourites are a MIST favourite!
9/10
About MIST
MIST E-Liquid have been manufacturing vape juice and operating as a vape kit retailer for over ten years. Founded and based in the UK, we believe that electronic cigarettes are the very best way for smokers to move towards a better lifestyle and are happy to assist anyone in their search for a vape kit that suits their personal needs.