VG and PG in E-Liquid: What You Need to Know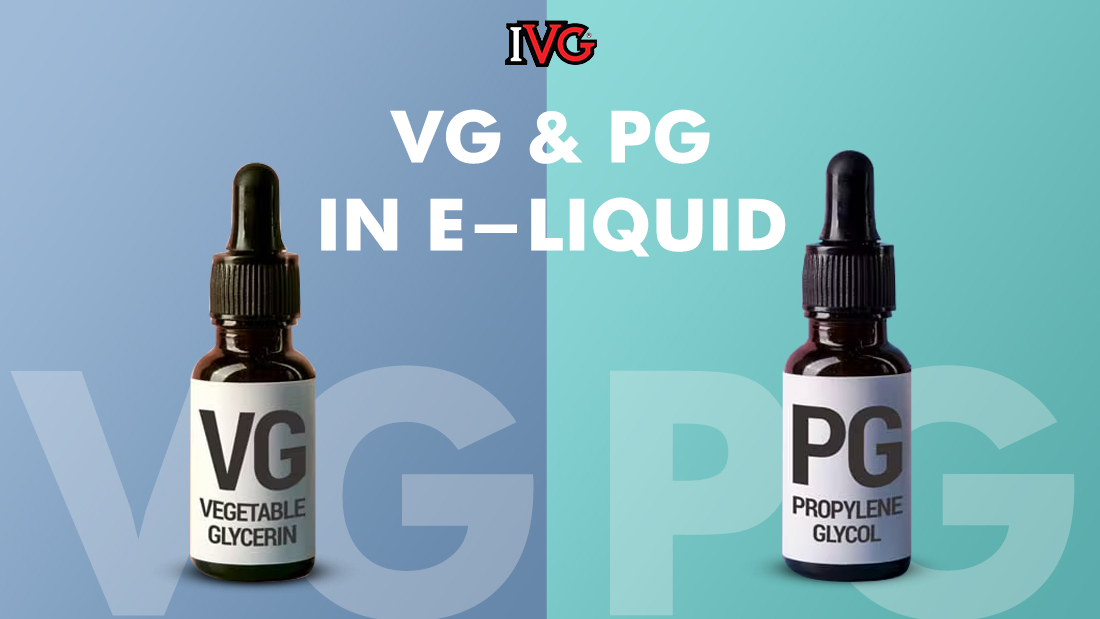 Vaping refers to the use of electronic cigarettes, such as vape pens, vape pods, disposable vapes, and mods, in order to quit cigarettes. It is an extremely effective and harm-free way to get rid of both physical and psychological dependency on cigarettes. Electronic cigarettes employ the use of e-liquids to generate flavour and vapour. Some e-cigarettes are pre-filled with e-liquid, while others allow the users to manually pick and choose and select the e-liquid they want to vape in their device.
E-liquids Are Composed Of Four Major Ingredients:
Nicotine (optional)
MHRA-approved flavouring
PG
VG
The last two ingredients, namely PG and VG, make up the major chunk of your e-liquid and are responsible for flavour and vapour production in your e-liquid. PG and VG might sound unfamiliar to you, but they are not uncommon. In fact, they are present in a lot of products that you use in your everyday life. Let's discuss what these ingredients really are and what roles they perform in your e-liquid
PG:
PG stands for propylene glycol and it's a synthetic food additive used in the manufacturing of many food and cosmetic products. PG is colourless and odourless and thinner in consistency. It is mainly responsible for producing throat hit and e-liquids that have a higher PG concentration produce lesser vapour. Some of the characteristics of PG are as follows
Less Vapour Production:
Propylene glycol is less dense in nature and hence it doesn't produce as much vapour as vegetable glycerin. However, it is really effective for stealth vaping and vaping in public, as the low vapour production wouldn't bother anyone.
Stronger Throat Hit:
PG delivers a stronger throat hit and it replicates the throat hit you get from cigarettes. PG-based e-liquids are generally preferred by smokers who're used to the throat hit they get from cigarettes.
More Concentrated Flavour:
The strong throat hit of PG is also paired with a strong and concentrated flavour. It is tasteless, hence it doesn't change the flavour of your e-liquid, but it accelerates the flavour capacity so that its effect becomes more potent.
Low Gunk Production:
PG has a thin consistency and is less dense, therefore it doesn't gunk up the coil in your device. The gunk is built when you vape e-liquid with more viscosity and flavouring as the heating part of your device damages the coil.
Allergic Reaction:
It is observed that some people might be allergic to PG, and it can cause low to mild allergic reactions. People who are allergic to PG may experience a harsh or tingling sensation in their throat, dry mouth, mild cough, etc. PG is also hygroscopic in nature, hence it's extremely important to keep your body hydrated while vaping.
Fast Wicking:
Due to the thin consistency of PG, it allows the coil to wick way faster than VG-based e-liquids. PG absorbs in the cotton of the coil readily because of much less viscosity and density and wicks the coil right away.
VG:
VG stands for vegetable glycerin and it is mainly derived from plant base substances like soybean, palm oil, or coconut. It is odourless in nature but has a slightly sweet taste and thicker consistency. It is widely used in the cosmetic, food, and pharmaceutical industry and serves many purposes. Due to its viscosity, it is mainly responsible for generating large vapour clouds, but it also wicks the coil a little slower. Some of the characteristics of VG are as follows
Copious Amounts of Vapour:
VG is viscous in nature and due to its high concentration, it generates a large number of vapour clouds. VG base e-liquids are used by cloud-chasers or people who like to blow big clouds.
Low Flavour Concentration:
VG carries a slightly sweet flavour of its own, which can sometimes alter the original flavour to a certain extent – but it's only the case with e-liquids that have a higher VG ratio. It also reduces the intensity of the flavour sometimes.
Weaker Throat Hit:
VG produces a weaker throat hit as compared to PG, and PG base e-liquids might not be appealing to someone who likes to have a potent throat hit. But if you are having irritation vaping e-liquids that are harsh on your throat, you can easily switch to VG base e-liquids to alleviate the situation
Slow Wicking:
VG is dense in nature and has a higher viscosity, therefore it takes a bit longer to wick the cotton as compared to VG. VG base e-liquids require a longer waiting duration before you can vape them as the cotton takes longer to soak. Insufficient time may lead to dry hits and a burnt feeling.
More Gunk:
PG base e-liquids can gunk up the coil faster as they are thick and viscous. The atomizer must be cleaned and maintained properly in order to avoid ruining the coil.
What Ratio of PG and VG Is Appropriate?
The ratio between PG and VG would be determined with respect to your personal preference and vaping choice. PG carries more flavor, and offers more of a throat hit typically, but makes your juice thinner. VG carries a bit less flavor, typically offers bigger clouds, and thickens up the juice a bit more.
Some tanks can't handle higher VG liquids and cannot wick them fast enough to prevent dry hits. Most pod systems fall in the category while there are pod systems that can handle higher VG liquids the majority are optimized for higher PG liquids like 50:50 or 60:40. By playing with ratios you can cater to your preferences. A small guide for ratios is given below
100% VG – People who are sensitive to PG can choose this ratio for their e-liquids. Those who are after chasing clouds can also make use of 100% VG e-liquid. The only aspects of these e-liquids are that they don't offer much throat hit, and can alter the original flavouring in the e-liquid and gunk up the coil faster.
70% VG 30% PG – This is an apt ratio for those who want more vapour without sacrificing the throat hit that's provided by PG. 70:30 ratio offers smooth hits and enough clouds, which makes it a good option for those who want moderation
50% VG 50% 50 – A 50:50 ratio creates a good balance between flavour, throat hit, and vapour and it's a great starting point for beginners
20% VG 80% PG – this ratio is a bit uncommon, but it increases the vapour production while slightly inducing throat hits with a low intensity
100% PG
– This ratio produces an intense throat hit with strong flavours but the vapour production is on the extremely low level of the spectrum. This will wick extremely fast and won't gunk up the coil.