Vaping Industry Worldwide and in UK: Where Is It Now, And Where Is It Headed?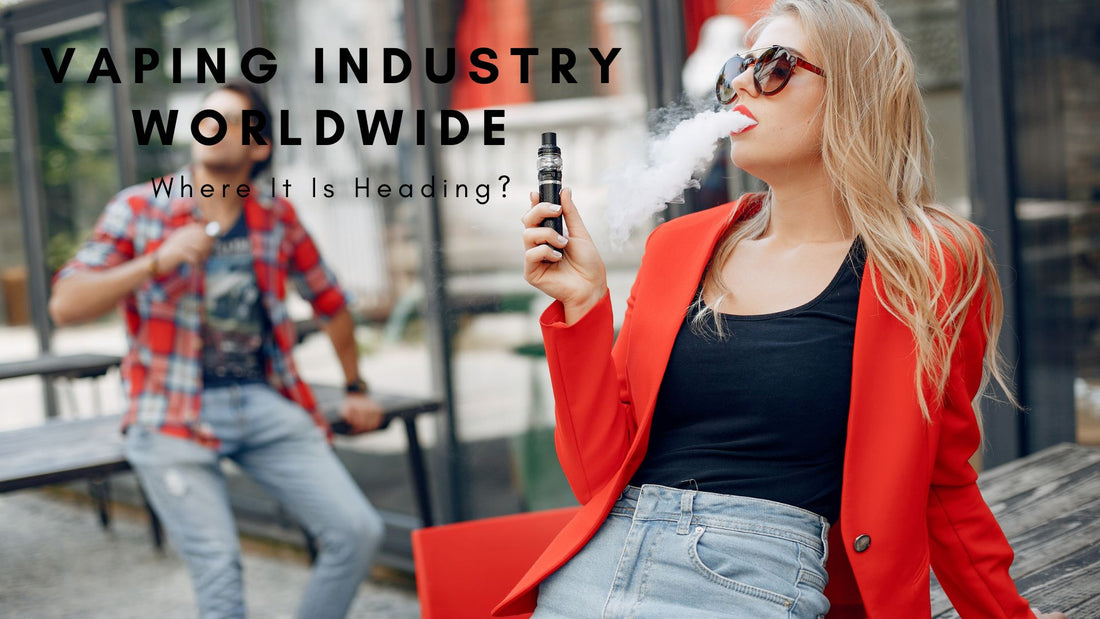 The global e-cigarette and vape market was worth USD 18.13 billion in 2021 and is expected to grow at a compound annual growth rate (CAGR) of 30.0% between 2022 and 2030. Due to various studies conducted by medical institutions and associations, it is expected that rising awareness about e-cigarettes being safer than traditional cigarettes, particularly among the younger population, will further drive market growth.
Vaping and E-Cigarette Industry Statistics 2022:
The Vaping Market Was Valued at $17.46 Billion in 2021.
Regardless of the risks that may occur from vaping, the market for electronic cigarettes and vape pens has grown. At least, it did until the pandemic. The COVID-19 pandemic put a kink in the e-cigarette statistics.
The initial forecast set in 2019 for growth in this industry was $29.39 billion by 2022. The Global Electronic Cigarette Market's revenue stood at USD 17.46 Billion in 2021. By 2028, the global electronic cigarette market is expected to be worth USD 43.65 billion. During the forecast period, the market is expected to grow at a compound annual growth rate (CAGR) of 16.5%.
Vape Stats Showed a Boost in Vaping and E-Cigarette Products Between 2014 and 2020.
The data analyzed between September 2014 and May 2020 showed that vaping retail sales increased by 9.4 million units in 4 weeks. The data indicated that these sales rose from 7.7 million units in 2014 to 17.1 million in that period.
According to February 2020 Vaping Statistics, E-Cigarettes and Associated Products Sales Are Banned or Regulated in 109 Countries.
Some countries included in the electronic cigarette sales ban include Egypt, Japan, Argentina, Mexico, Brazil, India, and Iran. If you vape, you will need to know which countries don't allow vaping or sell vaping products.
Vaping Statistics of the UK:
As of 2022, 95% of smokers and 93% of the general population in the United Kingdom had heard of e-cigarettes. In contrast, 49% of adults responding to the same question in 2012 were aware of e-cigarettes.
The number of e-cigarette users increased from around 700,000 in 2012 to 3.6 million in 2019, then fell to 3.2 million in 2020 before rising again to 3.6 million in 2021.
In 2021, the peak ages for current e-cigarette use are 35-44-year-olds (10.1%), 45-54-year-olds (8.6%), and 25-34-year-olds (8.1%).
Young adults aged 18-24 have the lowest vaping rates, at 5%, followed by those over 55, at 5.4%. Those who identify as male (8.1%) are slightly more likely to use vapes than those who identify as female (6.2%).
Smoking prevalence in England in 2021 was between 12.7% and 14.9% depending on the survey, which equates to between 5.6 and 6.6 million adults who smoke. 
Vaping prevalence in England in 2021 was between 6.9% and 7.1%, depending on the survey, which equates to between 3.1 and 3.2 million adults who vape
Vaping prevalence among adults who have never smoked remained very low, at between 0.6% and 0.7% in 2021.
The popularity of disposable vaping products has increased among adults who vape, with 15.2% using them in 2022 compared with 2.2% in 2021.
Tank type products remained the most popular vaping devices (used by 64.3% of adult vapers in 2022)
Key Vaping Statistics of US 2022:
Vaping statistics show that 11% of Americans vape.
It's reported that among Americans, millennials rank highest for vaping.
An estimated 3.02 million American high schoolers engage in vaping.
In 2018, e-cigarette usage rose by an alarming 78%.
American men are more likely to vape than American women by almost double.
The pandemic has positively impacted vaping among youths.
Statistics of American Vape Users:
In 2018, E-Cigarette Usage Rose by An Alarming 78%.
In 2017, 12% of high schoolers vaped, but by 2018, that percentage was 21%. These percentages mean that about 1.5 million new teenagers started vaping in 2018.
Nearly 83% of Teens Who Vape Use Flavors.
Statistics about vaping from 2020 show that fruity flavours are the most popular, followed by menthol, mint, and sweet flavours like candy.
The FDA set a new policy to prohibit using vaping or e-cigarette cartridges other than the tobacco and menthol-flavoured kind unless they have FDA approval.
The Pandemic Has Positively Impacted Vaping Among Youths.
The vaping data shows a dip in e-cigarette and vaping products among America's youth occurred during 2020.
High-schoolers usage dropped from 28%, as reported in 2019, to under 20% in 2020. Likewise, middle school students went from 11% in 2019 to 5% in 2020.
Age restrictions, flavour restrictions, and fatalities also played a role in the decline of vaping, but the pandemic is believed to have had the most significant impact.
2020 Statistics About Vaping Shows that 11% of Americans Vape.
Vaping statistics from 2020 showed that 11% of Americans vape, down from 2019, where it was 13%. As of July 2021, a Gallup poll showed a drop to 6%.
The percentage of Americans who vape is now lower than that of Americans who have tried or used marijuana, which is 9%.
American Men Are More Apt to Vape than American Women by Almost Double.
2020 data about vaping revealed that men are more apt to vape than women in America. Of the survey respondents, 30% of men said they had vaped, while only 14% of women admitted to it.
On the other hand, in 2018, a study showed that 60% of women said they would be likely to vape or try it as opposed to 45 % of men who said the same. It is unknown if the pandemic affected these numbers.
It's Reported that Among Americans, Millennials Rank Highest for Vaping.
Millennials seem to account for the highest percentage of vapers. The data from 2019 is pre-pandemic, but 21% of millennials claimed to use e-cigarettes occasionally or regularly.
The next highest group is Gen-Z at 18%. Finally, baby boomers come in at 5%, and the Silent Generation at 1% of Americans who vape.
Disposable Vapes Statistics:
While prefilled pods or cartridges, such as JUUL, remain the most popular device type, disposable e-cigarettes, such as IVG, which heat an e-liquid cartridge but is disposable and does not use prefilled pods, are rapidly gaining popularity.
During 2019-2020, the use of disposable e-cigarettes increased by approximately 1,000% (from 2.4% to 26.5%) among high school e-cigarette users and by more than 400% (from 3% to 15.2%) among middle school e-cigarette users. E-cigarette sales data reflect these trends as well: disposable product sales nearly doubled from 10.3% to 19.8% from August 2019 to May 2020, while prefilled cartridge product sales fell from 89.4% to 80.2%.
Bars are one of the fastest-growing disposable vape brands, with a market share increasing daily. Currently, IVG. is a known brand in UK and US and has constantly ranked amongst the most popular disposable vape brands In UK and has been swiftly growing in the south Asian and middle eastern vaping markets.
Disposable e-cigarettes such as IVG, can still be sold in flavours, which may contribute to the growing popularity of disposable e-cigarettes. Because IVG is a single-use device, it is exempt from the FDA's enforcement guidance on flavouring e-cigarette products.
Key Companies & Market Share Insights:
Prominent players in the market are adopting various strategies, such as product innovation, strategic joint ventures, partnerships, mergers and acquisitions, geographical expansion, and research and development initiatives, to strengthen their foothold in the market. Moreover, players focus on offering their products through retail stores and online platforms. Also, e-liquid manufacturers are focusing on producing a variety of flavours of e-liquid with different strengths.
Some of the prominent players in the worldwide e-cigarette & vape market include:
Reynolds American Inc.
Imperial Brands
Altria Group, Inc.
Japan Tobacco Inc.
Philip Morris International
International Vapor Group
British American Tobacco
NicQuid
Shenzhen IVPS Technology Co., Ltd.