I Vape Great Win 5 Prestigious Awards In One Of The Largest Consumer-Voted E-cigclick Awards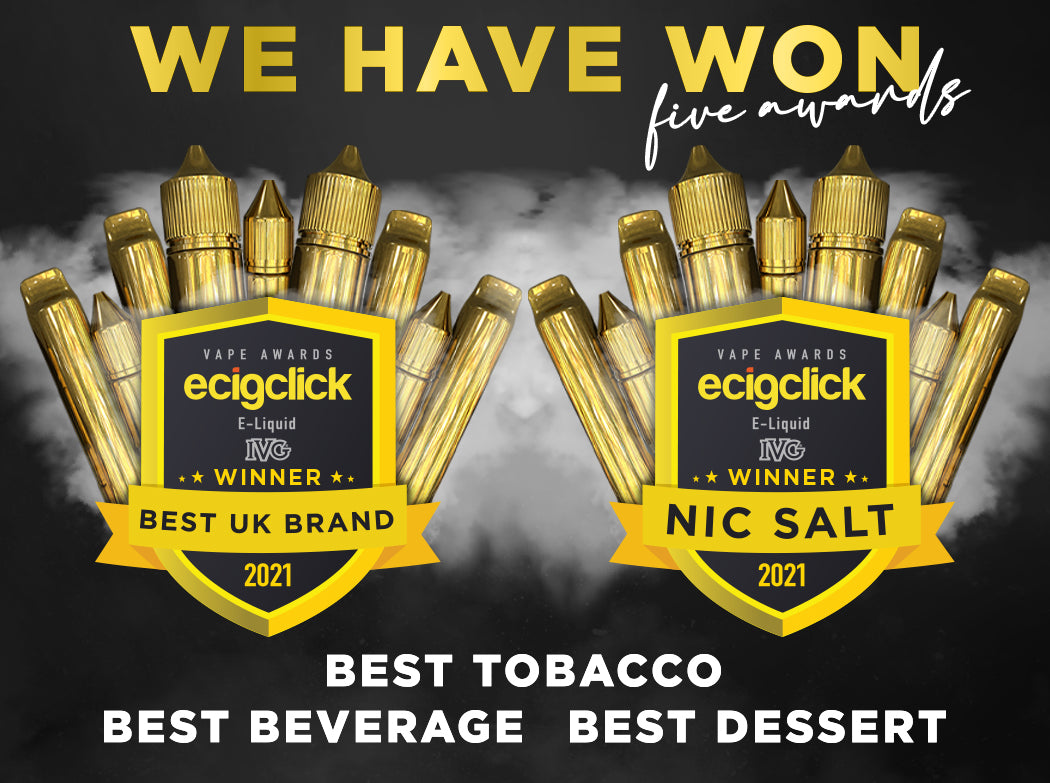 Preston based global vape firm IVG Premium E-Liquids have carried on the tradition of being the voted the UK's best vape brand and have also won the UK's Best Nicotine Salt Brand. Considered as one of the biggest award ceremonies within the vaping industry, the e-cigclicks awards are voted for by thousands of vapers across the UK, in a voting poll that lasts 1 month. It's the perfect platform for consumers to share their opinions on what they consider the top products in many different categories.
The winners of the e-ciglick awards have been announced today and I Vape Great have proudly accepted 5 awards in the following categories:
E-Liquid Best Brand – 1st Place
E-Liquid Best Nic Salt- 1st Place
E-Liquid Best Beverage – Riberry Lemonade 2nd Place
E-Liquid Best Dessert – Vanilla Biscuit 2nd Place
E-Liquid Best Tobacco – Silver Tobacco 3rd Place
CEO Ahsan Bawa Has Reacted To The News:
"We'd like to give a special thanks to every person who has voted for us in the ecigclick awards, it means a lot to us after the difficult year we have all faced together. Your support truly means a lot to us and we look forward to producing more amazing flavours and creating new innovative products so you can all continue to vape the highest quality e-liquids possible."
I Vape Great was concepted in 2015 and established in 2016 by Ahsan Bawa, who has an extensive portfolio in business that provides customer centric care and quality services. When creating I Vape Great the goal was to establish a British made in house innovative premium e-liquid brand that's sole purpose is to help people make the switch from smoking to vaping with confidence as a healthier alternative. IVG has gone from strength to strength this year by introducing a three high quality disposable vape devices which have been released in the UK & USA and has also enabled them to break into the FMCG market placing them in thousands of stores including Euro Garage forecourts, making vaping more accessible for the whole of Britain.